Prayer Prompts for Kids and Families
Take one prompt each day from the three sections below to pray with your kids.  Sitting at the feet of our Heavenly Father helps us to take our focus off of ourselves and brings a feeling of peace.  As you begin, start with adoration (respect and worship), move to thanksgiving, and end with petition (requests).      ⁠ ⁠
Lord, you are ________________.  ⁠
Good – Psalms 34:8
⁠Strong  -  Psalms 33:6  ⁠
Faithful – Hebrews 10:23  ⁠
True  -  John 17:3  ⁠
King  -  Psalms 95:3  ⁠
Provider (Lord, you take care of me) - Philippians 4:19  ⁠
Protect -  Psalms 20:1  ⁠ ⁠
Thank you Lord, ____________________.  ⁠
For taking care of us.  ⁠
For providing all our needs.  ⁠
For healing us.  ⁠
For giving us wisdom.  ⁠
For giving us friends.  ⁠
For family that loves us.  ⁠
For walking with us.   ⁠
For providing a way back into relationship with you.   ⁠ ⁠
Lord, thank you for hearing us.  We ask ____________  ⁠
For your peace to live in us. Calm our spirit.   ⁠
For your heart for others.  Help those who are hurting today.   ⁠
For you to bless all those working in hospitals.  Keep them strong.  ⁠
For all families to have enough to eat.    ⁠
Your protection over our grandmas and grandpas during this sickness.  ⁠
For you to keep us safe.  Thank you that You fight for us.  ⁠
That this sickness end.   ⁠ ⁠
But God has surely listened.

He has heard my prayer.

Give praise to God.  He has accepted my prayer.  

He has not held back his love from me.

Psalm 66: 19-20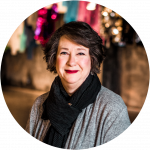 Candace Wyne
As the Children's Pastor and Discoveryland Director, Candace leads the Discoveryland team! She's passionate about helping parents be the spiritual leaders in their families and walking alongside them as they do.